"Time and again, Brave New Media has delighted us with its high-quality, nimble solutions that move the needle on our agendas." - Josh Mark, Vice President of Creative Services for Fox Broadcasting Company
One February morning, Damian Petrou in Los Angeles answered a call that would throw him and his seven team workers of Brave New Media (BNM) into the thick of homicide hunters. XG Productions, the production company responsible for Fox's America's Most Wanted gave them three weeks to develop a modernized data privacy and security solution for AMW new release, March 15, 2021, that would encourage more people to contact them without needing to pick up the phone and call.
Fox wanted the system to be secure. It also had to satisfy both the US Marshals and the FBI with their stringent data privacy and security requirements. Finally, BNM was expected to design the tool for prime time.
"So I'm a failure enthusiast," Damian said. "That's our motto: We're not afraid to fail. We're brave."
"So I'm a failure enthusiast," Damian said. "That's our motto: We're not afraid to fail. We're brave. We learn more from failing than from achieving. Three weeks? Sure it's a challenge but even though we're not always the best, we're always available – almost like a helpdesk for clients."
Since 1990, BNM had created multiple publicity events for Fox. One of their splashiest was a VR livestream for Fox television annual Teen Choice Awards. But this? This was something new.
"Well, this was COVID." Damian said. "No time to deal with self-preservation. The mood was all existentialist. What's my legacy? How can I make the world better. Catching criminals fit the bill. There was also this sense of urgency. It was three weeks before the show. They wanted a solution that was creative, technical, and secure. We're nimble. We're always ready to move mountains and push boundaries. We were willing to take the risk."
Those first two weeks, Damian and his team reviewed various customer relationship management (CRM) systems. Their own customized WordPress plug-in that satisfied XG Productions, the company behind Fox's reboot of AMW, displeased the IT teams of both Fox and the FBI.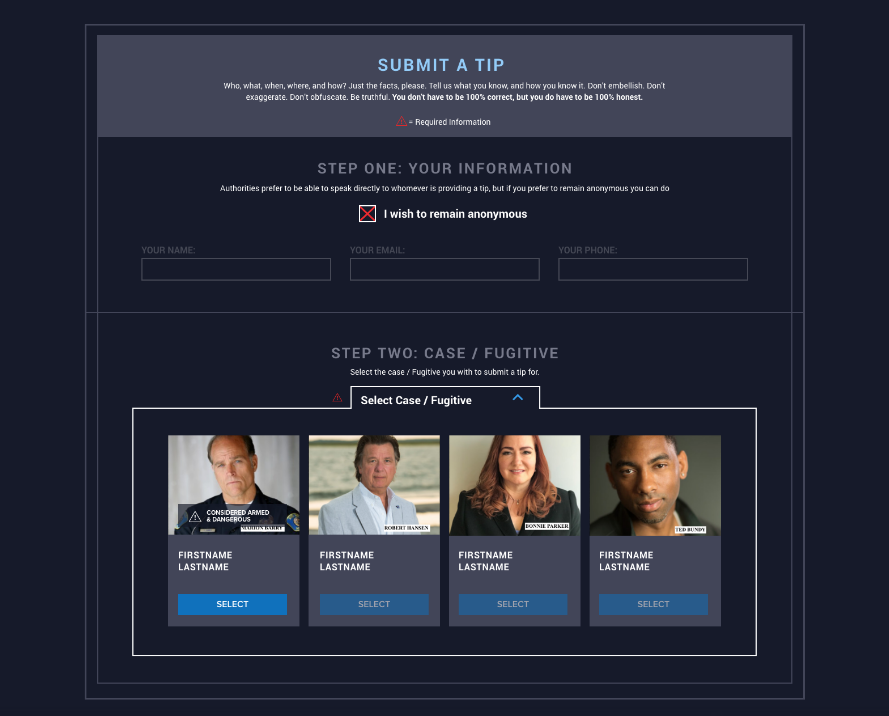 Their ideal CRM had to satisfy multiple stakeholders.
"These included," Stephen Cashmere of BNM explained, "Fox Privacy and Data Security, Fox Legal, Fox Information Security, Fox Creative Services, Fox Production, XG Productions, and our own Brave New Media design and development team."

The marketing agency test-drove the platform's functionality and user experience; inspected data quality and conversion; checked its usability, reliability and confidentiality; tested cross-platform compatibility and mobile integration; compared quotes for CRM software; and developed test cases and test scripts to root out vulnerabilities. Over and again, one or other of the security stakeholders rejected their offerings: Not secure enough. Doesn't comply with our requirements. Needs to have no holes whatsoever.
One week left. Back to the table for more CRM testing that focused on security requirements. Forty-eight hours before deadline, Damian and his team approached each of the stakeholders. They warned: We've found the best product. It seems great. Secure? Absolutely! Only one problem. What's that? It's expensive. But in terms of security, nothing even touches its fingernails.
That CRM became AMW's unhackable receptacle for tips (resulting in turn in its new toll-free number (833-3AMWTIP)).
It was Salesforce.
Unknown to Brave New Media, AMW was actually the software giant's second major foray into handling secret government information, after its CRM system for the State Department earlier that month.
Salesforce's online database of customer information is mostly known for its collaboration tools, customer engagement tools, analytics and intuitive, mobile-ready dashboard, among other items. On the side, Salesforce has pronounced privacy features that David Liu, Salesforce Technical architect, says could help him keep expenses hidden from his wife.
For starters, this really secure platform can be configured to four different layers of access control that restrict edit functions and screen access to certain users. Administrators can also control password policies and log-in access based on hours, location and email domain, among other items. Finally, administrators can adjust its Health Check tool for maximum security.
"An important feature of building a single-page application on the Salesforce platform is performance." Tom Gorgolis of BNM explained. "[We needed] the shortest possible wait time so that callers can get their tips vetted and into the system and off to Federal Law Enforcement, otherwise users may leave that app and tips may get lost."
"What's really satisfying is when we do get those tips, and they do lead to the apprehension of a fugitive." FBI Special Agent Raj Patel said.
If you were one of those 5.1 million AMW viewers with a tip, you'd call the toll-free hotline number anonymously. Federal agents from the FBI and the US Marshals answer your tips at a secret call center in a nondescript neighborhood east of LA and slip them into their Salesforce database.
"What's really satisfying is when we do get those tips, and they do lead to the apprehension of a fugitive." FBI Special Agent Raj Patel said. "We make sure every piece of information is scrutinized, and then we make sure it gets to the right agent in the right part of the country or the world."
Four days after BNM introduced its 2021 enhancements, the FBI caught Alison Gracey and Christopher Jones who'd been on the run for nearly ten years after they'd drowned 36-year-old Aimee Rhoads in Florida. And BNM felt they'd used their agency experience to make the world safer.
They also felt they had demonstrated their commitment to their motifs of "Brave" and "New".
"When you move from the one dimensional analog phone world of dialing in your AMW Tips, to the digital world of submitting your tips through a website," Tom said, "there is a whole new spectrum of requirements that need to be addressed. It's not as simple as setting up a one-page website with a contact form. There are data privacy and data security requirements … and when multiple stakeholders are involved, each has their own guidelines."
"This is a story of handcuffs," he added. "Our team was handcuffed with restraints, but it was more than worth it to know our efforts helped the Feds slap handcuffs on two of America's Most Wanted."