Brave New Media Enters the Emmys:
"Our synthesis of tangible and intangible connections pushed us over the edge."
It all started with TV Academy creative consultant, Neal Roscoe, hiring Brave New Media (BNM) to create an historic website for the 73rd Primetime Emmy Awards.
With 12 years' experience on the Emmy Awards Neal knew this was a unique year filled with large challenges. COVID-19 prevented the press from interviewing the Emmy winners face-to-face. Roscoe and his partner, US-based Creative Technology (CT), a global supplier of audiovisual high-tech, created the concept of a Virtual Media Center, where viewers could not only follow the winners in real-time as they were interviewed and received their prizes, but could also download content minutes after the event. CBS and Television Academy, hosts of the 73rd Emmys, approved the idea, and so BNM, veteran digital and live-events production company, was chosen to transform that vision into reality.
Challenges
Only CBS and Television Academy publicists could escort Emmy winners to the Media Center for trophy pickup, photos and interviews. The general press was disallowed. In order to duplicate the experience of being in person, BNM developed a web portal that integrated with the Emmys' General Press Room, so that interviews broadcast by CT could be followed live by the press.
"The moment a winner was announced," BNM's founder Damian Petrou elaborated, "we had to update the website in real-time with the backstage press interviews and transcripts. The CBS network had never done anything like this. Actually, this particular immersive press experience was a first for the industry as a whole."
On top of that, BNM had to engineer a distribution solution for press all over the world to access the backstage interview clips.
"We integrated a Dropbox API with Vimeo for the press to download and post clips to social media twenty minutes after we'd uploaded the clips of the winners' interviews." Stephen Cashmere, BNM Producer, explained. "So, say, there was the Ted Lasso clip where cast and crew did the Roy Kent cheer backstage, that clip was on our website within fifteen minutes of it happening. We made the website as user-friendly as possible for a tech-challenged press to use. Making these clips ready for a sharable audience in the social media ether."
The 73rd Emmys was also more complex than their previous TV experiences, in that BNM was faced with new challenges.
According to Stephen, "Even though we had everything down pat from other virutal events: customer support functionalities, logins, how to hire and train backup crew/staff – the entire virtual user experience, and we'd worked with CBS on the 2017 Emmys, this was a whole new immersive talent and press experience, while under very strict COVID protocol."
Producing the Virtual Website
As the Media Center Director Damian Petrou directed and coordinated the physical and digital activities of broadcast and programming personnel. BNM producer Stephen Cashmere and his BNM Web Development Team, Johanna Ruiz and Amber Sjomeling, built the portal that integrated with the CBS media center. This included embedding plug-ins for the press to sign a virtual clip agreement, integrating password management features, incorporating interactive capabilities for the press to interview Emmy winners, downloading the clips of winner interviews in the EVS General Press, and adding a resource center with transcripts and real-time updates of winners, among other items.
Website designer and Art Director Zac Good incorporated CBS/TV Academy design ideas for inspiration.
"This was my tenth year working with the Emmys, so it was exciting to participate … and always cool to see how the show has evolved over the years," Stephen enthused. "I worked on this event before streaming platforms had ever been nominated. And now we are creating tech that is becoming a precedent for future award shows. I felt honored to collaborate with the TV Academy, Neal Roscoe, and CBS to participate in creating this historical and thrilling milestone for such an important event."
Results
Invariably, it's front-stage production that makes the news, rarely—if ever—backstage. So when the tweeted video clip of Ted Lasso and crew doing the Roy Kent cheer backstage picked up over 1M views, Damian exulted to the CT team
"Our clip was trending earlier this morning around the globe. It was a team effort to make sure this was possible. Great calls were made to take the return feed off the LED, going for a wider lens, and the EVS/Dropbox integration worked seamlessly. So much to be proud of and this clip represents how it all came together in one shiny moment."
"I think it all came down to.'' Stephen reflected, "Our synthesis of tangible and intangible connections… We harnessed the tangible assets of our talents and experience in design, content, and technology with the intangibles of dedication, passion, and existing connections. We used all our tools at our disposal – web design, UX/UI, product development – all those hard skills and merged them with the intangibles. The synthesis pushed us over the edge."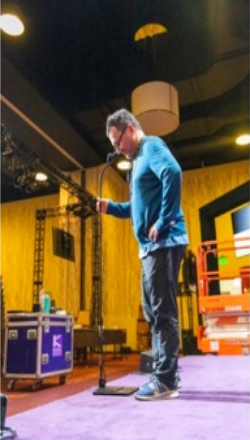 For Neal, the success of the project frittered down to two assets: A seasoned team and simply #BeingBrave.
"Our biggest relief," he divulged, "was being able to rely on the BNM team that it could manage the entire range of components from audiovisual to PR, design changes, technical issues and so forth… Having worked with Stephen, Damian, and the Brave New Media team on many Emmys, I'd say it was their institutional knowledge that helped CBS and Television Academy help the public and the press enjoy the Emmys remotely without missing a beat."